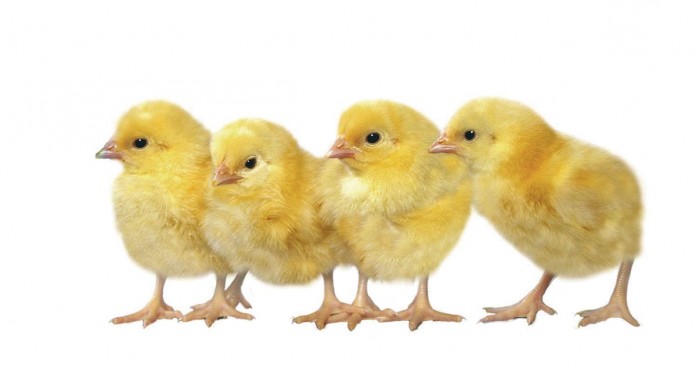 Jim McAdam – Poultry Breeding Programme Director of Aviagen® Ltd – has retired after 37 years working in the international poultry industry at the end of last year. Renowned amongst customers and industry professionals alike as forward thinking, dedicated and affable, Jim's departure will be a massive loss to the industry.
Those who have had the opportunity to meet Jim over the course of his long and successful career have never failed to be instantly charmed by him. Jim's face lights up as he shares various memories from his time working at Aviagen and it is clear that he is a man who not only takes pride in his job, but even after such a long time in the industry still speaks about it as though it was an adventure waiting to begin. Jim's love of animals started at a young age. His father worked on a dairy farm where he unwittingly obtained his first exposure to Pedigree Breeding. While Jim kept guinea pigs, pigeons and bantams as a child, a career in animal genetics was not something he had contemplated. That was until he was inspired by his biology teacher, who he fondly refers to as 'Fuzzy Watson.' The Lanark Grammar teacher spotted potential in Jim and recognised a natural talent and enthusiasm for biology and particularly genetics. Discussing his early introduction to biology and genetics, Jim said, "Fuzzy Watson would turn out to be a big influence on my chosen career. As my biology teacher in the grammar school, I remember him keeping fish tanks and breeding gerbils in class. I also got on well with him. His influence played a big part in me eventually choosing to study biology and subsequently animal breeding. I'll never forget that he said one day I'd make a name for myself in animal breeding. I liked the idea of being a vet initially but he really spurred me on to pursue genetics further. He had seen something in me that I wasn't even aware of and, as a result, I've been rewarded with some fantastic opportunities. So I have a lot to thank him for!". After school, at the age of 17, Jim attended Edinburgh University. He gained his BSc (Hons) in Genetics in 1976 under the legendary Professor Falconer and subsequently his MSc in Animal Breeding.
Jim's career began in 1978 with Ross Breeders Ltd., which is now Aviagen Ltd. However, it was not the start that Jim had in mind. His skills were recognised by the Managing Director John Archibald but he did not have a genetics position for Jim at that time. Keen not to miss out on Jim's talents, he proposed a role as a technician with a view to offering him the next available genetics position. Jim went on to spend the next few years working his way up through the company and was involved in projects at an international level from the outset. Jim recalls, "I was focused on understanding what customers wanted and because of this I was one of the initial product steering working group members. Here people from different parts of the company come together to discuss current and future product requirements. We envisaged early the need for broiler production worldwide to focus on delivering higher efficiency and yields, and this led to the development of the highly successful Ross 308".
Discussing his role and the company's achievements during his time there, Jim recalls, "I have been lucky to be involved in setting up major breeding programmes throughout my time with Aviagen. We have always had a focus on constant improvement to ensure we are ahead of the game. We believe that balanced breeding, delivering progress across a wide range of characteristics, is an absolute necessity for the industry. Understanding our customers' needs and getting the best balanced product is integral for continued growth in poultry production".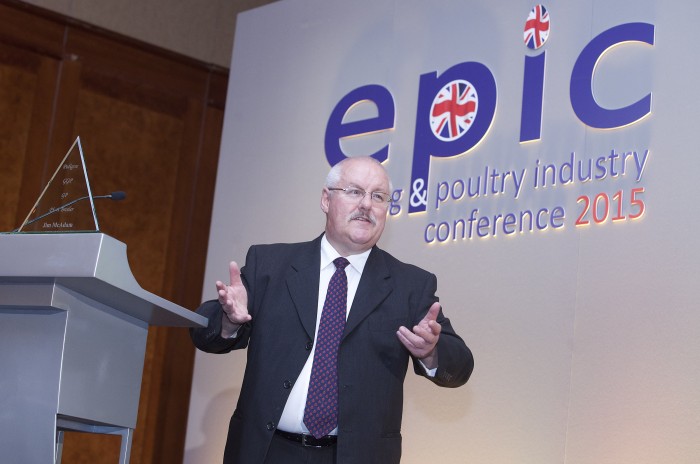 "I genuinely believe that the success of our brands has been built around the product research we have conducted and the continued development we have undertaken. Another key to past and future success is investment in our people – they are the driving force behind everything we have to offer".
"Aviagen as a company has always been keen to keep in touch with the latest developments in science and work closely with academia. Through the years we have developed a very wide and strong network of scientific collaborations. The pursuit of novel selection tools and data analysis methodologies has taken us many places in the world".
Working closely with Aviagen's customers Jim has become a well-known face throughout the industry over the years and has shown his profound understanding of what drives the poultry industry.
Jim adds, "I've not been one to sit behind my desk and look at data on a screen, I've always wanted to take a hands-on approach to my work and I believe that I've done that throughout my career by working directly with the customers". Jim will not only be missed by customers he has worked with, but his colleagues within Aviagen will also miss his enthusiasm and work ethic. Alfons Koerhuis, Chief Technical Officer of the Aviagen Group, said, "I'd like to thank Jim for his exceptional contribution to Aviagen over the years. Jim has an extraordinary knowledge of poultry and their genetics. His vision, incredible commitment, loyalty to the company, its people and our customers has been fantastic. Jim was instrumental in building the success of the Ross® brand in particular over the last 30 years with his focus on quality and innovation delivering a paradigm shift in the poultry market". Patrick Claeys, President of European Operations, added: "A large part of the global success of the Ross 308 comes from Jim's vision to develop the world's best broiler through a balanced breeding programme. His efforts cannot be understated on a world scale in making a major contribution towards the universal availability of high quality chicken meat at an affordable price".
Jim's efforts have been recognised with a number of awards. In 2000, he was awarded membership of the Russian Academy of Agricultural Sciences. He became a Foreign Member of the Academy due to his invaluable contribution to the development of Russia's agro industrial sector. Jim has also been honoured by the Scottish Poultry Industry and most recently, been given a prestigious long-term achievement award from the British Poultry Council for his outstanding contributions to the UK poultry industry.
"It is a privilege and an honour to be recognised for my work with awards, but in truth one of the best things about this job is getting to meet people from all over the world and having a chance to experience widely different cultures. I feel like we're a big family at Aviagen with friends all over the world. With this job I have travelled to countries that I never would have imagined I would have seen. I've been to every continent…except Antarctica!"So what does someone with such vast experience and history in the industry see for its future? "Looking ahead it's important that the industry as a whole considers the bigger picture. What I mean by that is it needs to ensure that it is thinking of the environmental impact of everything we do. It's something that is becoming even more important as time goes by for each generation. As a company, Aviagen has always had a welfare ethos instilled in its employees, and for the future I believe that the environmental impact will be embraced by our employees and the industry in a similar fashion ".
Now that Jim has retired, what will this international man of poultry do to fill up his time? Most people upon retirement decide to travel the world but Jim's plans are a little closer to home. "I don't have any plans for travelling; I've seen quite a lot of places through my work with Aviagen and I don't think my wife knows where her passport is! I've now got some time to stay at home and we have some land to play around with so I am going to work on developing our woodland garden. My wife and I are looking forward to spending a lot more time together and to taking care of the menagerie of animals we've got". After a short pause, Jim grins and adds, "I'll get myself some chickens too, no doubt!".